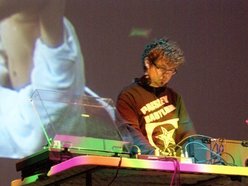 Tonight, September 7, 2013, DJ Paisley Babylon spins a set as part of tonight's Constantly Consuming Culture art show put on by Mapanare.us. The show opens at 6:30 PM tonight (September 7 2013) at 222 North Desplaines Chicago, IL on the lower level. Artists in the show: John Airo, Julia Hamilton, Elyse Martin, Gretchen Hasse, Serena Toxicat (San Francisco) John Schedler and Mikey Peterson.
DJ Paisley Babylon is part of Turntabling.net, which archives, sells and performs with rare, weird and hard-to-find sounds on LP and CD. Paisley Babylon shares the decks tonight with Tim Larson from Chicago's own Tim Larson and the Owner Operators. The DJ Paisley Babylon set includes Ennio Morricone remixes, Italian lounge, dub, some electronic industrial, and an extended play set of Binary Partners tracks and unreleased material.

Turntabling and Paisley Babylon have been involved in a number of Chicago art and media events including shows by OhNo! Doom! and the Paisley Babylon Beautiful Chaos project which was featured at the 2010 Music Box Massacre and in the Not The Film Room at Capricon 32 in 2012.
The Constantly Consuming Culture art show opens Saturday September 7 2013 at 6:30 PM. It's located at 222 North Desplaines Chicago, IL on the lower level. The Turntabling set features DJ Paisley Babylon, AKA Joe Wallace.
For more information, see the Mapanare official Facebook events page for the show.
DJ Paisley Babylon is available for booking: I do art shows, film festivals, media events, private gatherings and similar events. The Paisley Babylon experience includes a specially curated collection of retro sounds featuring dub, Italian lounge, gothic/industrial, new wave, and unusual vinyl. This isn't your typical party DJ experience–it's a retro groovy/sinister flashback experience that covers a wide range of sounds and atmospheres ranging from pure chill-out to Halloween party-creepy depending on the event.
For booking, contact jwallace@turntabling.net
The Constantly Consuming Culture art show runs from September 7 to September 13. Gallery hours are September 9 to 13 from 10 a.m. to 1 p.m. Sunday September 8 or other times by appointment. For more info on the show itself or to book an appointment to see the work, go to ConstantlyConsumingCulture.com.