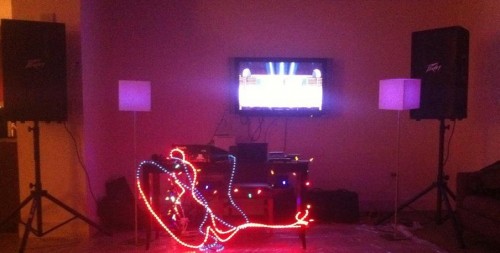 Paisley Babylon continues doing creepy, awful and wonderful things with video. The next phase of Paisley Babylon appears at the OhNo!Doom Gallery group show, Adventure Time! which opens August 11.
The video installation is a collage/mashup/homage to Adventure Time, the popular Cartoon Network show. Paisley Babylon has in past video exhibitions, featured barrage-edited scenes of horror, human desecration, drive-in exploitation movie madness, ritual worship, and deviant behavior.
It seemed only right and good to continue in that fine tradition, albeit with less emphasis on the sinister and much more placed on bringing a long string of WTF moments to the screen, all connected and guided by Adventure Time show concepts and situations.
Paisley Babylon's last public exhibition of video mashup and retina damage was featured in 2010 as part of the Beautiful Chaos "tour" which hit The Music Box Massacre, a Horror Society film festival, and the wonderful Chicago art/music/tech shop Transistor. The video, informally known as "Satan's Greatest Hits" featured so much footage of blood and nudity that it was dubbed "Paisley Boobalon" by some bemused onlookers.
Adventure Time! has a different look and feel but contains the same barrage-edited aesthetic fans of other underground video phenomena such as Everything Is Terrible! and TV Carnage have grown to love. Come experience the Paisley Babylon video journey at OhNo!Doom Gallery on August 11 starting at 6PM:
OhNo!Doom Gallery
1800 N. Milwaukee Ave.
Chicago, IL 60647 USA
Call: 773.698.8348