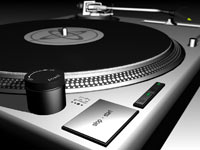 Paisley Babylon is in the studio rehearsing for a multi-media performance to be announced soon. What you're about to hear is an hour's worth of sonic weirdness–live mashups and mixes using a variety of sources including three turntables all going at once.
It's a sound collage, music mix and live mashup being rehearsed in preparation for performances in Chicago to be announced soon.
In the meantime, enjoy this one-hour journey into the central nervous system of Paisley Babylon. Have a listen to the Mp3 and please feel free to drop comment on what you think of the clip–keeping in mind that it's rehearsal quality, not performance quality.