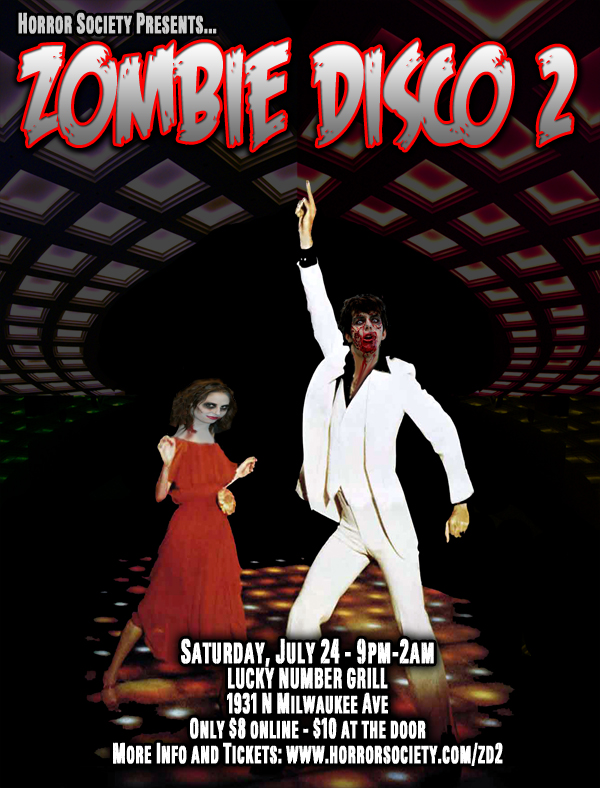 It's true–Zombie Disco 2 is a DJ Paisley Babylon night of evil disco treats. While it's true that HorrorSociety.com has me listed as DJ Joe Wallace instead of the more wildly exciting name I DJ under these days, it's still a DJ Paisley Babylon gig, make no mistake.
It's true that I do gigs more or less by word of mouth–I prefer to be more selective about my gigs–I do pimp myself out from time to time for cash. As it happens, right after Zombie Disco 2, I have some availability, so if you're looking for something different than what the club kids are spinning, do drop a line. You can download a 40-minute long sample of the sonic madness I conjure up to see what all the fuss is about. Not much disco on this one, I'm afraid, but I do have a large library of the stuff. I also have a massive amount of retro 60s/70s lounge, 80s electronica & new wave, trippy shagadelic music (look out, Austin Powers!) and a huge catalog of dub.
Back to Zombie Disco 2–it's July 24 2010 at the Lucky Number Grill. Get advance tix or pay a tenner at the door. See you there!